Dear Farmers,
winter is coming to an end the temperature is gradually rising, ice is melting and nature is coming back to life again. Can you already smell the spring?
We are looking forward to the explosion of colors, the blooming flowers in landscapes and meadows coloring our lives once again.
We do love spring time and due to that we have prepared something really special for all of you. We will do a spring countdown together and we will celebrate every single day, giving you the possibility to obtain rewards for your farms.
Check out the sweet offers we will be sharing with you during the next 31 days on our Facebook fan page!


But...What is the Big Farm Spring Countdown?
The Big Farm Spring Countdown is comprised of treats which we will put out daily, in the form of a Facebook status during the following 31 days.


And...What could I receive throughout this event?
You will be able to obtain lots of rewards for your farm: dollars, gold, foliage, cow food, premium fertilizer, apples and lots of other surprises during this event!


But...How can I make sure I get a daily treat?
We would advise you to Like our fan page on Facebook. We will be putting out new treats in the form of vouchers every day! So the way to make sure you don't miss it is to subscribe to our Facebook notifications! Once you get the daily voucher, you just go into your payment store and insert it there. (There will be a tutorial at the bottom of this announcement on how to redeem vouchers)


How many vouchers per day? And who can benefit?
We will post one voucher per day on our Facebook fan page and EVERYBODY can benefit from it for a limited time, by inserting the voucher code in their payment store.


And....What if I miss one day? Can I still get that voucher?
The vouchers will only be temporarily available! This means if you miss one day's voucher, you won't be able to claim it anymore! So, stay tuned and keep an eye on our Fanpage to not to miss any of this!


And...How do I do that? How can I redeem a voucher in my payment store?
No problem at all. Rita has already taken care of that. Here's a little guide on how to do it:

Please keep in mind you can only use each code once - if you enter the same or an invalid code multiple times, this feature will be blocked for you!

We really hope you like our Spring Countdown! Please get back to us HERE if you have any questions/criticism/suggestions.
We'll be seeing you onFacebook!
Happy harvesting to all!
Regards,
your Big Farm Team


---
How to Like & Subscribe to Notifications on Facebook: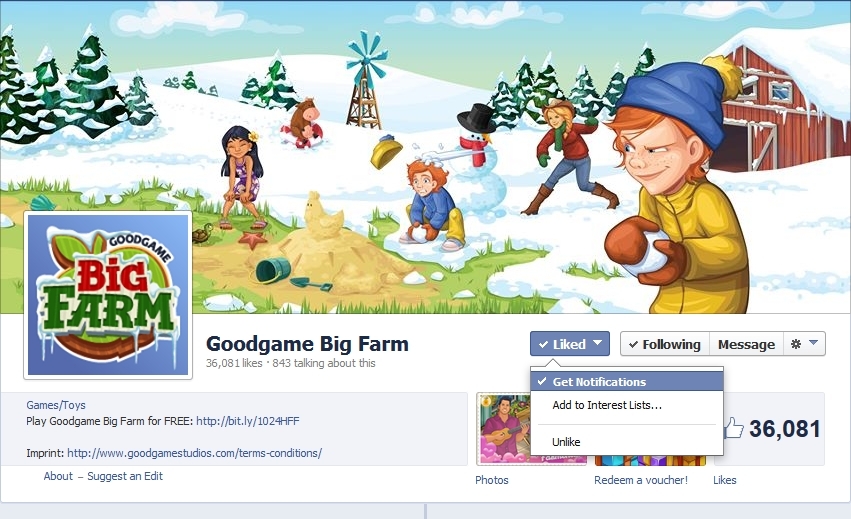 Ad blocker interference detected!
Wikia is a free-to-use site that makes money from advertising. We have a modified experience for viewers using ad blockers

Wikia is not accessible if you've made further modifications. Remove the custom ad blocker rule(s) and the page will load as expected.