Hey everyone
To give you some information on what we're working on in 2014, here's the first picture of our biggest new series of features yet! If you're wondering what exactly you're looking at right now: We can't tell you too much, but here's a little information you might find interesting.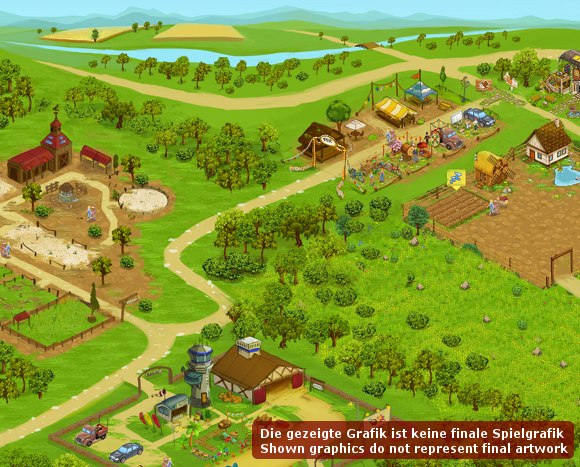 This picture only shows an unfinished draft, which won't be in the game exactly like this. It will look very similar, though.
You can see the complete picture on our Facebook page right now

Here you'll see one of our two main changes to the game in 2014 (the other being the complete overhaul of the Gourmet farm), our main project in 2014: Farm environment.
However, the name "Project 2014" is to be taken seriously: All new features of the environment will be added to the game step by step during the upcoming months. This leaves us time to test everything perfectly, and you will have time to appreciate and get used to every newly added feature.
Now, what's the farm environment exactly? When the environment is finished, it will give you many more things to do all around your actual farm. Many new buildings and fuctions will make your personal farm life even more exciting, and will for example enable way bigger events for certain occasions. Also we will have a horse paddock, a shore with all kinds of exciting events, and much more. All of these features will be built upon each other, and will hopefully cause a lot of fun and diversion across all farms.
The first thing we planned is to actually bring the new background to your farms, with upcoming features left under a thick fog. After that, all features and functions will be added through our regular updates, as usual, so that we will have a huge pile of new features by the end of the year, on which we can create even more awesome stuff once everything is set up properly!
As you might have noticed, this incorporates a lot of things that you guys actually wished for, for a long time - Horses, more and bigger events, diversion, new seeds, new products and a lot of other stuff will be added with the farm environment - and, of course, the environment and it's buildings and prospects are by far not the only thing we're working on!
Keep in mind that all of this is just information available to us in this exact moment - there might be changes, and there might be even more to the environment later on, depending how things will work out.
Soon there will be news for the new Gourmet farm, too, so stay tuned!
Have fun,
your Big Farm team
Ad blocker interference detected!
Wikia is a free-to-use site that makes money from advertising. We have a modified experience for viewers using ad blockers

Wikia is not accessible if you've made further modifications. Remove the custom ad blocker rule(s) and the page will load as expected.