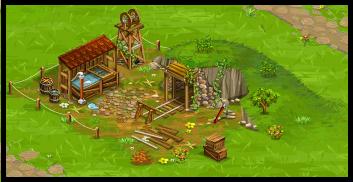 The Gold Mine is located on the outskirts of your permanent farms, near the Harbor. You will need Mining Licenses, which are different depending on if you're using Farm Dollars or Gold. If you have the licenses to mine, you can double the money or gold you put in. The production time required goes down as the Mine level goes up.
Regular Mining Licenses are dropped from the Windmill on your Main Farm at random. You can carry up to 2 Regular Mining Licenses at a time. The Windmill will randomly drop a Regular Mining License when you collect feed and you have less than 2 Regular Mining Licenses. With frequent use of the Windmill and a lower level Gold Mine, you should rarely run out of Regular Mining Licenses.
Gold Mining Licenses are available on certain Prime Events, from the Wheel of Fortune, or can be purchased at The Bazaar. Gold Mining Licenses may also be awarded as prizes for events.
| Level | Precious Stones Ingredients | Time to produce | Product |
| --- | --- | --- | --- |
| 1 | 1 Regular Mining License & $2,000 | 50:00:00 | $4,000 |
| 2 | 1 Regular Mining License & $2,000 | 48:00:00 | $4,000 |
| 2 | 1 Gold Mining License & 2,000 Gold | 48:00:00 | 4,000 Gold |
| 3 | 1 Regular Mining License & $2,000 | 36:00:00 | $4,000 |
| 3 | 1 Gold Mining License & 2,000 Gold | 36:00:00 | 4,000 Gold |
| 4 | 1 Regular Mining License & $2,000 | 28:00:00 | $4,000 |
| 4 | 1 Gold Mining License & 2,000 Gold | 28:00:00 | 4,000 Gold |
| 5 | 1 Regular Mining License & $2,000 | 24:00:00 | $4,000 |
| 5 | 1 Gold Mining License & 2,000 Gold | 24:00:00 | 4,000 Gold |
Gold Mine Upgrade Costs
Edit
| | Cost |
| --- | --- |
| Level 1 | |
| Level 2 | $10,000 |
| Level 3 | 19,500 gold |
| Level 4 | 29,500 gold |
| Level 5 | 49,500 gold |